Below are photos from our trip - Sean dubbed them "Teresa's windshield chronicles". You can click on them to see them at full size.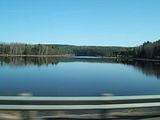 This photo was taken early on Sunday morning the first day. It's one of the many lakes in eastern Ontario, still waters surrounded by trees.
---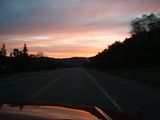 On day two we left
Sault Sainte Marie
first thing in the morning, I took this photo of sunrise about half an hour into our journey.
---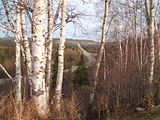 For years I heard about the
Wawa goose
so we stopped there. You've already seen a photo of me with the goose, but here is what the highway looks like from the goose's look out.
---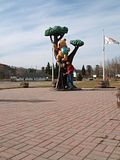 And, of course, we had to stop in
White River
to visit
Winnie the Pooh
- yep, this is where the famous bear was born!
---
The
Canadian Shield
is one of Canada's unique features. This photo gives you a good idea of how spectacular it is. I can't imagine how difficult it must have been to carve the highway through this rock.
---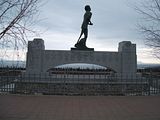 As some of you know,
Terry Fox
is one of my heroes. I was thrilled to finally see the memorial to him outside
Thunder Bay
, where he was forced to end his
Marathon of Hope
.
---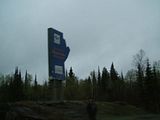 After two days driving, we finally left Ontario. Naturally, I had to take a photo of the "Welcome to Manitoba" sign.
---
Though it was raining in
Kenora
when we left, the sun finally came out about half an hour after we crossed the border.
---
By early afternoon we crossed into Saskatchewan, though I didn't see an official sign welcoming us. I did however find a sign indicating we were now in Saskatchewan, so I snapped a photo of it instead.
---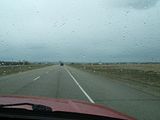 People who told me it seemed the prairies went on forever, weren't kidding. I thought we'd never reach Regina, where we would turn north to go to
Saskatoon
. However, at last it appeared on the horizon so I took a picture of it just to make sure it wasn't a mirage.
---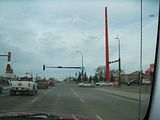 I learned something else on this trip. Turns out
Lloydminster
sits directly on the Saskatchewan/Alberta border, and they make a big deal about it. As I mentioned earlier in my recounting of the trip, they have two large red markers in the middle of town. So once again out came my camera.
---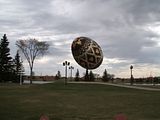 in
Vegreville, Alberta
Sean insisted we stop to take a photo of the Pysanka, so here it is.
---
Despite many warnings of wildlife on the highway, we didn't see all that much. But we did see these sheeep just outside the town of
Jasper
.
---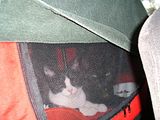 We needed to do a little shopping in Jasper before going to
the campground
, Sean left me in the truck with the cats. Even though we had been traveling a long time, they continued to be patient. Such good girls.
---
Our campsite in Jasper, within a quiet area. The scenery, however, was gorgeous. Here is what we saw from the window of the camper.
---
To stretch our legs after the drive, we went for a little walk. Sean insisted we stopped in front of the bear warning sign so he could take a picture of me with it. The story behind this is that there are lots of bears here on the property on the Sunshine Coast, yet I didn't see one until 2004 and even then it wasn't here. Sean has joked that I am bear repellent, hence the need for the photo of me with the sign. (It was windy, which is why I have hair across my face!)
---
Cleo was fascinated by the view from the window. I figured she was looking for a bear.
---
Before we left, I was worried the cats might not like the camper, but it turns out I was wrong. Don't they look like they're right at home?
---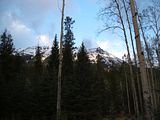 If anything, our view in the morning was even more spectacular. Here's what we saw just after sunrise.
---
While driving out of the campground, we saw either an elk or a caribou. I'm still not sure which one it was.
---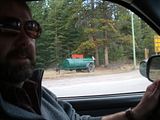 Here is the bear trap set up just inside the entrance to the campground.
---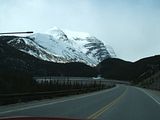 The scenery on the
Ice Fields Parkway
between Jasper and Banff was easily some of the most interesting of the trip.
---
We stopped at the Columbia icefield, and took some photos there. Here is Sean with the icefield in the background.
---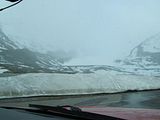 And here is the icefield itself. I took this photo as we out of the parking lot directly opposite it.
---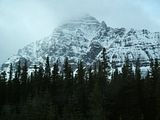 One of the many incredible mountains along the parkway.
---
I'd never seen a green river before, so had to take a photo of the Athabasca. Sean says that water is that color because it is so cold, runoff from much much farther north.
---
Here is one of my arty shots, taken of a rockface from the side window.
---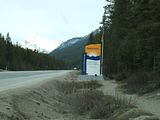 Late in the morning, we finally arrived in B.C. it seems, a provincial motto has changed from "Beautiful British Columbia" to "The Most Beautiful Place on Earth".
---
Here is an example of some of that beauty.
---
Another one of my arty shots, taken as we went through a snow tunnel - designed to keep motorists safe during avalanche season.
---
We thought this sign in
Revelstoke
was pretty funny. They don't have a Canadian Tire here but they will have a Starbucks very soon!
---
After a little adventure we found our campground for the night. It turned out to be even nicer than it looked on
the web site
and we want to go back there one day to spend a couple of more nights.
---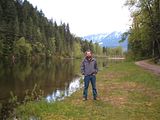 Here's a photo of Sean I took at Williamson Lake - you can see how beautiful it is there.
---
One of the best things about moving to BC is the mountains. I took this photo as we were leaving the campground on Monday morning.
---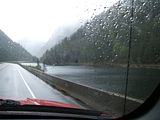 A few minutes later the weather had changed completely. But that didn't last long either and soon we were back in the sun.
---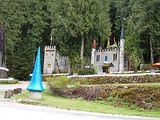 Back in April, or maybe even March I mentioned the
Enchanted Forest
. Because of the cats we didn't have time to stop, but I did take some photos as we passed by and here is the best of the lot. Sean did pull over so I could take several, then took some himself.
---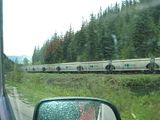 While we were in Saskatoon we went to our older nephew's soccer game, but it was told to stand and watch. So we went for a walk instead with the younger children. While at a nearby playground we saw a train going by and our younger nephew was fascinated by it. Imagine our surprise when we saw the same train while traveling between Revelstoke and
Salmon Arm
. Now you might think "how do they know it was the same train?" - personally I'm not sure because I don't know that much about trains, but Sean says it's the same train. And I believe him. We're going to send a photo of the train to our nephew.
---
Between Salmon Arm and Kelowna we went along Highway 97A - this pretty lake is called Mara Lake. Isn't it beautiful?
---
At one point we crossed
Shuswap Lake
and I managed to snap this gorgeous picture.
---
The Okanagan Valley
is one of the loveliest places in B.C., and especially so in the spring when everything is so green.
---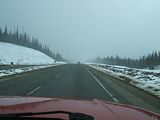 Between
Kelowna
and
Merritt
runs the
Coquihalla connector
. The
Coquihalla
is the main highway between the Okanagan and Fraser valleys. Getting there from Kelowna means driving for an hour across the mountains - the scenery is wonderful, though I confess to closing my eyes when we got too near the edge. It's also very isolated up their so I wouldn't want to make that drive in the winter unless we were traveling with another car. Because of the altitude it often snows up their later in the season as we discovered.
---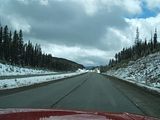 Fortunately it didn't snow the whole way and the sun even peeked out from time to time.
---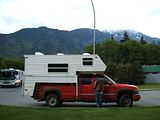 Our drive down the Coquihalla went smoothly and by just past four o'clock Sean was able to call his parents and let them know we'd be on the coast that evening. This is the rest stop at Hope - regular readers of my blog will remember the photo Sean took here on his big trip in early April.
---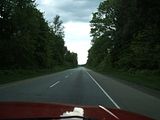 Even the highways here are beautiful in spots.
---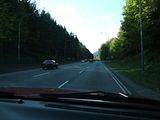 One of the things I like about
Vancouver
if there is so much green space in the city. Here is the highway going through
North Van
.
---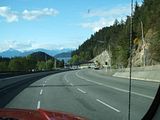 At last we reached
Horseshoe Bay
. I have to say I was pretty happy to see it.
---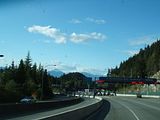 So happy that I even took a photo of the approach to the ticket booth.
---
In the early evening sun, the planters of tulips looked especially nice, don't you think?
---
Even waiting in line for the ferry isn't so bad with this kind of scenery.
---
Here's Sean with the camper - I figured we needed at least one pic of us in line at the ferry.
---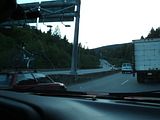 It was almost dark by the time we reached
Langdale
, but I wanted to document our disembarkment at our new home nonetheless.
---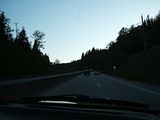 Here we are along the windy tree-lined highway on the final leg of our trip.
---
Home at last :-)
Teresa